| Source: Research and Markets Research and Markets
Dublin, IRELAND
Dublin, Nov. 13, 2023 (GLOBE NEWSWIRE) — The "Global Basalt Fiber Market by Usage, End-Use Industry and Region – Forecast to 2028" report has been added to ResearchAndMarkets.com's offering.
Basalt fiber's estimated global market size is USD 279 million in 2023, and it is anticipated to reach USD 503 million by 2028. Between 2023 and 2028, this growth is anticipated to occur at a Compound Annual Growth Rate (CAGR) of 12.5%.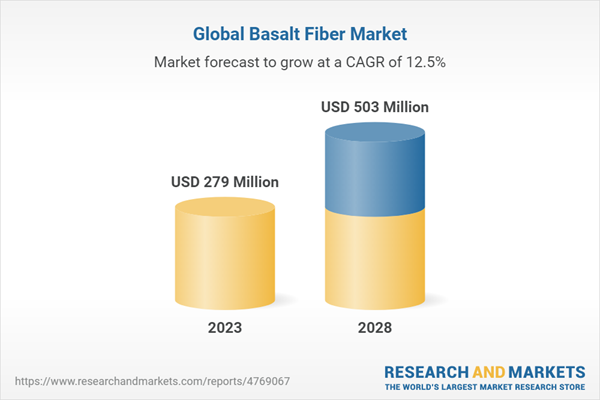 In order to meet the increasing demand from a variety of end-user industries, including building and infrastructure, automotive and transportation, electrical and electronics, among others, this expansion is anticipated to continue in the upcoming years. Of these, the construction and infrastructure industry is the main user of basalt fibers since these fibers are highly suitable for demanding applications requiring characteristics like minimal water absorption, chemical resistance, durability, and mechanical strength.
Continuous form of the basalt fiber holds the largest share in terms of both value and volume
Continuous form of basalt fibers dominated the global basalt fiber market and is expected to register the highest CAGR during the forecasted period. This remarkable growth can be chiefly attributed to the increasing demand across a spectrum of global end-use industries, thanks to its efficient properties. The continuous form of basalt fiber is widely used in several industries, including wind energy, construction and infrastructure, automotive and transportation, and maritime. Because of their superior mechanical qualities, increased tensile strength, and outstanding efficiency, continuous basalt fibers are the go-to option in these sectors.
Usage of basalt fiber in composite is the fastest growing segment
Given its broad applicability across a variety of end-use industries, including construction and infrastructure, automotive and transportation, maritime, wind energy, and sporting goods, among others, the use of composites is expected to rise significantly in the near future. Whether used in concrete or plastic matrices, basalt can bring new possibilities for reinforced composites when used in the form of continuous fibers.
Currently, there is an increase in demand for basalt fiber across a range of applications, both in composite and non-composite forms. These applications include, but are not limited to, the production of pipes, bars, fittings, fabrics, structural plastics, automotive components, concrete reinforcement for construction, insulating plastics, and materials used in friction-related applications. They also include areas such as thermal and sound insulation, which involves materials like basalt wool and engine insulation.
Construction & infrastructure is the largest and the fastest-growing end-use industry of basalt fiber
During the forecasted period, the construction and infrastructure sector is poised to exhibit the highest Compound Annual Growth Rate (CAGR). Within the construction industry, basalt fibers and basalt fiber composites are extensively employed due to their excellent insulating properties. Notably, these materials offer longevity and resistance to corrosion, setting them apart from steel and the decay-prone nature of wood. This translates to reduced maintenance and replacement expenses.
Furthermore, basalt fiber composite materials are gradually making inroads into the construction industry, gradually displacing steel. This transition is driven by their exceptional combination of attributes, which include a high strength-to-weight ratio, resistance to chemicals and corrosion, low thermal conductivity, and an absence of electrical and magnetic conduction. Basalt fibers find application in a multitude of construction scenarios, including assembled houses, structures, cold floor heating systems, fire partitions, firewalls, fire doors, and various other construction applications. These fibers take on multiple forms, serving as reinforced rebars, pultruded load-bearing profiles, unidirectional, biaxial, and triaxial basalt fabrics, basalt reinforcing meshes, and they are even incorporated into basalt fiber-reinforced concrete within the construction and infrastructure sector.
Key Topics Covered:
Executive Summary
Premium Insights
Market Overview
Drivers
Restraints
Opportunities
Challenges
Competitive Landscape
Company Profiles
Key Attributes:
For more information about this report visit https://www.researchandmarkets.com/r/7pd5oy
About ResearchAndMarkets.com
ResearchAndMarkets.com is the world's leading source for international market research reports and market data. We provide you with the latest data on international and regional markets, key industries, the top companies, new products and the latest trends.
Attachment